Genomskinlig Orange Maskerings Tape Rispapper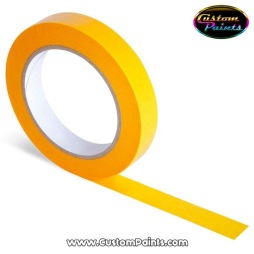 Pris:
69 kr
Inkl. 25% Moms
Art.nr:
CMT 24
Antal:
This translucent Orange Masking tape is a must when laying down patterns, The tape's translucent nature means that it can be used for cutting out when painting custom designs and artwork.
Translucent Orange Masking Tape is a medium tack masking tape for exterior applications. The product consists of an orange rice paper masking tape with a custom formulated water based acrylic adhesive.
The products is ideal for masking plastics, trims, rubbers & wheels.

2-in-1 fine line and masking tape.
Lays down flat, Flexible, waterproof acrylic adhesive that prevents paint bleeding.
Masks plastics, trims, rubber etc. Ideal for masking wheels.
6mm and 12mm are fantastic for masking small items especially rubbers around helmets visors and neck lines.

4,8 cm
3,6 cm
2,4 cm
1,8 cm
J TAPE Orange Fine Line 6 mm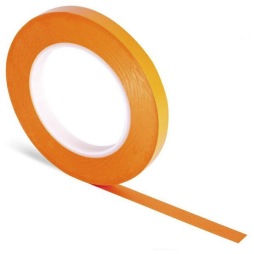 Pris:
89 kr
Inkl. 25% Moms
Art.nr:
JTO 6
Antal:

Masking tape for multi-colour and design paint jobs. Designed for long straight lines whilst remaining flexible.
Orange Fine Line Masking Tape uses a thermally stabilised PVC backing with a rubber based pressure sensitive adhesive. It is designed for straight lines whilst remaining flexible and will hold and cleanly remove from surfaces in temperatures up to 150°C/302°F for at least 30 minutes. After demasking, it will leave no residue and a sharp, clean separation line.

J-TAPE Green Fineline
Pris:
119 kr
Inkl. 25% Moms
Art.nr:
1105.1255
Antal:
One of the Best Fine line tapes on the Market for Curved lines.

Green Fine Line Masking Tape Orange Fine Line Masking Tape uses a thermally stabilised PVC backing with a rubber based pressure sensitive adhesive. It is highly flexible, easy to curve and will hold and cleanly remove from surfaces in temperatures up to 132°C/270°F for at least 30 minutes. After demasking, it will leave no residue and a sharp, clean separation line